Skerries Mills at night. Music. The spoken word. And an enraptured audience.
Thank you, Michael McKenna and Marie Byrne of Skerries Camera Club, for the photographs!
And thank you, Enda Coyle-Greene and Darren Hughes, for putting together this evening, with support from Soundwaves' Ernestine Woegler.
And this is how we had announced Night Airs:
Night Airs – A Miscellany of Words and Music: Skerries Mills
Featuring an eclectic miscellany of vibrant words and music, and undoubtedly one of the highlights of last year's Soundwaves, Night Airs returns again in 2015 to the uniquely atmospheric surroundings of the Mills after dark.
This yearwe are delighted to welcome acclaimed jazz guitarist Hugh Buckley and poet, critic and novelist Stephanie Green to Skerries as our very special guests.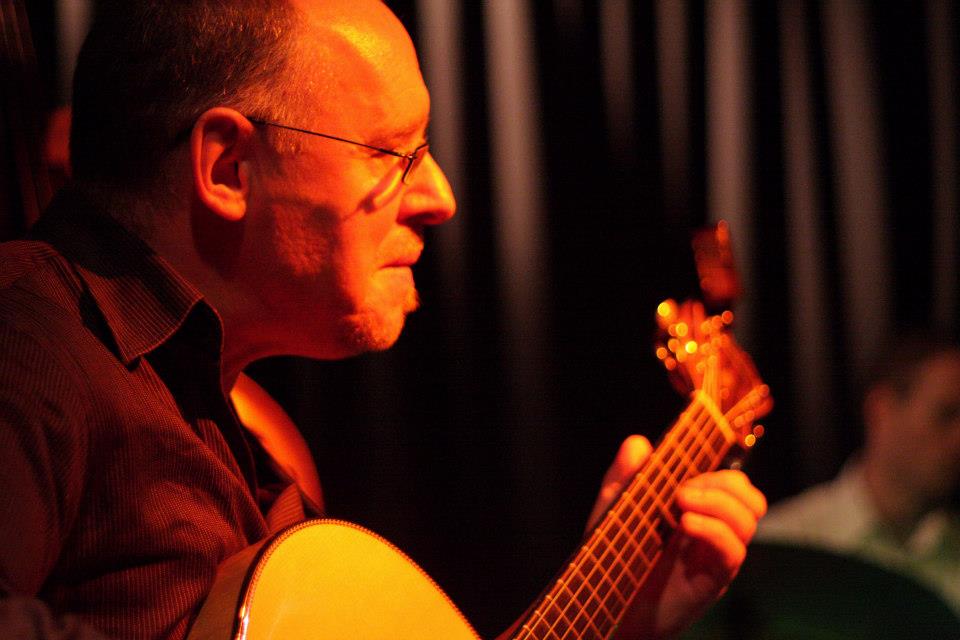 Hugh Buckley, Dublin born and based, has performed throughout Europe, the U.S., Argentina, and China, working as a sideman and leading his own groups.
A sample selection from the very long and equally impressive list of influential artists Hugh has performed with include, Van Morrison, Louis Stewart, Brad Meldau, Georgie Fame, Lisa Stansfield, Joe Temperley, Guy Barker, Scott Hamilton, and Christine Tobin. Besides featuring on many recordings as a sideman, Hugh has released three CDs as leader: "Yes Indeed" (1998) w/ James Williams, Peter Washington, and Darren Beckett; "Spirit Level" (2001) – both recorded in New York- and "Sketches of Now" (2008). His most recent release is 'The Day of the Duo" (2014) with renowned Scottish guitarist Nigel Clark.
Hugh was producer, arranger and guitarist on the 2008 platinum selling CD by the legendary folk artist Ronnie Drew, "The Last Session – a Fond Farewell."
As well as performing, Hugh regularly conducts guitar workshops and teaches privately. He holds a 1st class honours Master of Music degree from DIT Dublin.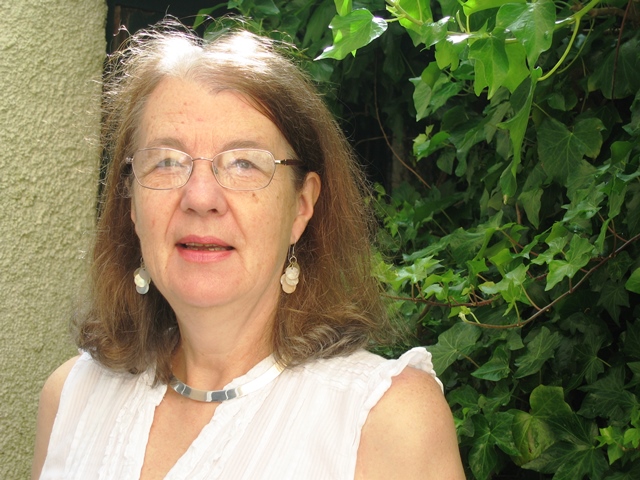 Stephanie Green was born in Sussex to an English father and an Irish mother. Her poetry pamphlet,  'Flout', inspired by Shetland landscape, folklore and culture, was published by HappenStance, earlier in 2015. A poetry pamphlet 'Glass Works' (Cat's Pyjamas Publications, 2005) was shortlisted for the Callum McDonald Award.
Walker Books published her novel 'The Triple Spiral' in 1989.  Exploring her Irish roots, she studied English at Trinity College, Dublin (1966-70). She has a Masters from Kent and an M.Phil in Creative Writing from Glasgow University (2004).
A tutor of Creative Writing, Stephanie also works as a Theatre and Dance reviewer.  As a kinswoman of the great Percy French – his mother and her maternal great grandmother were sisters – Stephanie is especially thrilled to be reading in Skerries, the town which inspired his most famous song, 'The Mountains of Mourne', which her mother always sang to her as a lullaby and which she in turn sang to her son. See also Stephanie Green's Website
Night Airs 2015 also features writers, Bob Shakeshaft, Helen Dempsey, EithneLannon, and Marie Bashford-Synnott and musicians, Bill Haneman on uilleann pipes, David O'Connor – vocals, Mike Mullins – guitar and vocals, Siobhan Breathnach – harp, and Jim Grant – flute. Darren Hughes will once again don both his writing and singing hats for the occasion!  Julie Conlon will provide a reading to set the mood for the evening. MC is Enda Coyle-Greene (who will also read a poem or two!)
Bob Shakeshaft has been a long time participant on the Dublin Open Mic scene and has had poems published in the broadsheet Riposte and in the Brown critique magazine.  His work has also featured in anthologies such as the Seven Towers anthology 2012/2013, the Curlew collection by writers from Dublin, the Ardgillan writers' anthology, and, most recently,Agamemnon Dead, which was published in conjunction with the Skerries poetry festival Donkey shots.
Helen Dempsey is from Rush and has been writing since she was 10 years old.
Her work has appeared in anthologies and magazines and she has performed her work at Poetry Readings and Open Mic sessions. Helen has been a member of Ardgillan Writers' Group for many years.
Eithne Lannon is a native of Dublin and teaches in Kilbarrack.  Her interest and love of the natural world is reflected in much of her writing. She has had work published this year in Issue 28 of A New Ulster, and in a recent anthology, Agamemnon Dead.
Marie Bashford-Synnott is a published poet and author. She has had a number of plays professionally produced and has presented her work on Sunday Miscellaney. Married with four grown-up children, she has lived in Skerries for many years, having been born and reared in Limerick. At present she is working on a collection of short stories.
Julie Conlon is a member of the Rush Dramatic Players, recently appearing at the Millbank theatre in a production of Jeffrey Archer's "The Accused". She is also a long-standing member of the Skerries Women's Writers group with a particular interest in poetry. She is delighted to be involved once again with Night Airs at the Mill.
Cllr David O Connor, was first elected to Fingal County Council in 1999 and is now
Mayor of Fingal.  He has had a lifelong interest in traditional music, song and dance.  As part of this interest he has collected a small treasury of songs and lore about the Fingal/east Meath area and given any opportunity will try and get it to a wider audience.  His songs range from love (+ marriage) to murder, sport and politics, sad to happy, and depending on the mood of his audience, will either put them to sleep or waken them up.
Bill Haneman is a Skerries-based musician and maker of the uilleann pipes. A specialist in instruments from the 19th century, he has been playing for over 25 years. When not making and restoring instruments, he can be found at traditional sessions around Skerries.
Mike Mullen was born in Newry and lived in Omeath, Co. Louth for six years before moving to Leeds for 21 years. Since moving back to Dublin in 1975 he has played regularly at folk sessions throughout the area.
Siobhán Bhreathnach and Jim Grant live in Skerries. Siobhán is a founder member of the all-women traditional music group Macalla with whom she has made two recordings (Mná na hÉireann, and Macalla, on the Gael Linn label). She has also made a solo recording of music from Celtic countries (The Celtic Harp,Ossian Publications) from which her arrangements have been published in an accompanying book.  Siobhán and Jim have a particular interest in the music of Donegal.
Darren Hughes has been writing songs and poetry since his teens. He played support to Mary Coughlan at Soundwaves in 2008 performing a number of his own songs. He has organised and performed at Night Airs in 2014, and Words and Music, Night Airs' first manifestation, in 2013. He currently sings regularly at local folk sessions and is working away at his poetry.
Enda Coyle-Greene is co-organiser of the Night Airs series of events. Her most recent collection is, 'Map of the Last' (Dedalus Press, 2013). Her first collection,
'Snow Negatives', won the Patrick Kavanagh Award in 2006 and was published by Dedalus the following year. Enda is a frequent contributor to programmes on RTE Radio.